Post-operative care is the care administered to a patient post a surgical procedure. Depending on the patient's surgery, the type of Post-operative care treatment is determined. Pain management, physiotherapy, wound care etc. are all programs under post-operative care. It begins immediately after the surgery of a patient and continues till the patient's full recovery. Post-Operative care has a major impact in reducing the risk of developing permanent illness after surgery.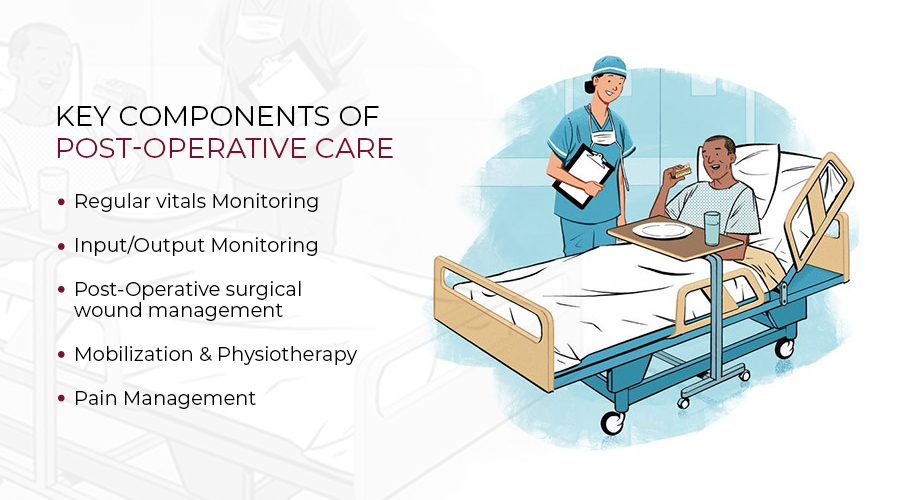 Post-Operative care plays a critical role in defining the patient's journey back to his condition prior to hospitalisation. Care plans for patients are developed keeping the below broad subtopics in mind :
Depending on the condition of the patient, the doctor suggests a vital monitoring plan for patient assessment.
One of the key aspects of post surgical care is to maintain the fluid balance of the patient. For this it is crucial to maintain the input and output of the patient.
Appropriate surgical wound care in the post-operative time period is imperative. It includes surgical site infection and wound dehiscence. Preventing incisional infection by appropriate cleansing, skin care and moisture management is a requisite part of the post-operative plan of care.
Post-operative physiotherapy forms a crucial part of the care plan for the patient. It helps patients on a variety of fronts like, proper circulation of blood, improved muscle strength, posture and balance of the body, better response to daily activities of living, and a reduced probability of pulmonary complications post a surgical procedure.
The advantages of effective postoperative pain management include patient comfort and therefore satisfaction, earlier mobilization, fewer pulmonary and cardiac complications, a reduced risk of deep vein thrombosis and faster recovery with less chances of the development of neuropathic pain. One of the key goals of post-operative care is to reduce a patient's pain and provide him maximum comfort.